Cloverdale and South Putnam FFA Community Toy Drive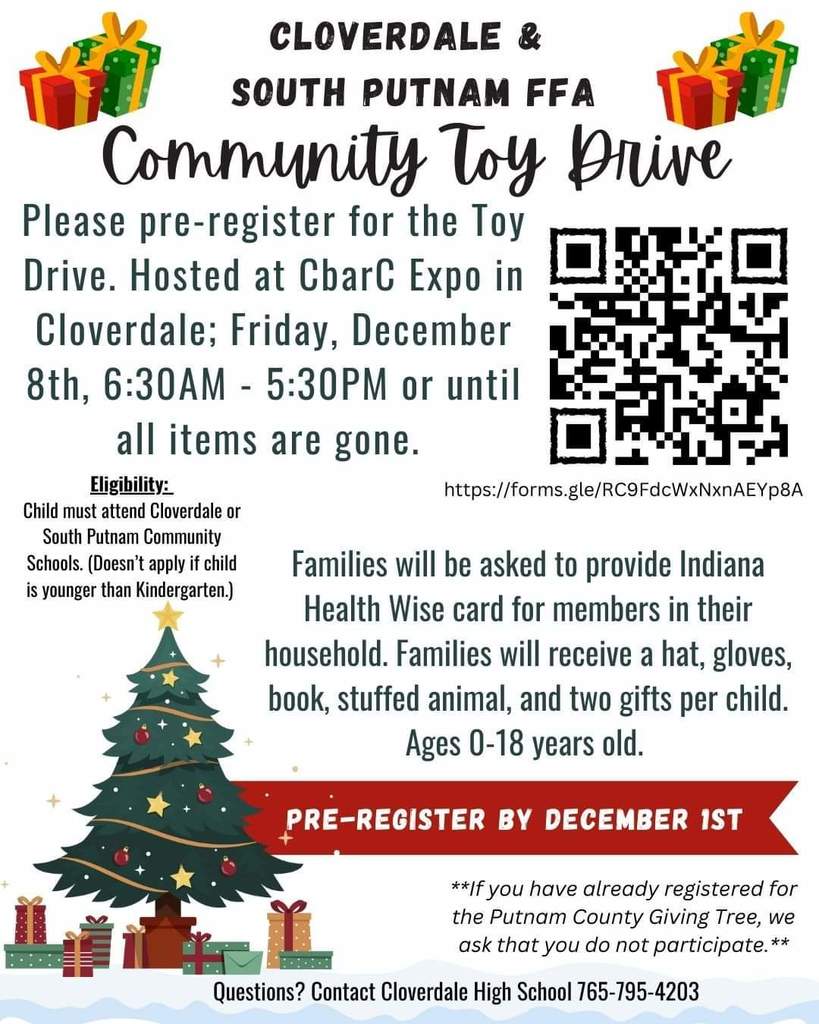 Good day, Eagles! As recently reported via community development reports, Putnam County needs additional preschool and childcare services. South Putnam is developing a grant proposal to help meet the community's needs regarding preschool educational and childcare options. Please complete the survey linked here:
https://tinyurl.com/mvhsp7vx
Please feel free to share with others so we can get as much community input as possible for the grant application. I've included a QR code as well. Thanks so much! Dr. Smith
WE HOPE TO SEE YOU THERE!
Grandparents and Veterans Day Schedule for tomorrow 11/10: 8:45-9:00 Coffee & Donuts 9:00-9:30 Grandparents Day in classrooms 9:45-10:45 Veterans Day Program
Mr. France, a "through hiker" on the Appalachian Trail came into the 5th grade classes to discuss the importance of national parks and nature. 
Good morning, This is Dr. Smith, Superintendent of South Putnam Schools. On Friday, September 29, South Putnam Schools will be on a two-hour delay due to dense fog. There will be no AM Area 30 transportation and no AM Pre-K. Stay Safe, Eagles!
Mrs. McKee's 5th grade class has has been working hard on their solar system projects!
Kindergarten loved being able to learn more about butterflies and moths with Mrs. Pruitt🦋🐛
Good afternoon! This is just a friendly reminder that on Monday, September 25th, students will not be in the school buildings but completing E-Learning assignments from home. Meanwhile, teachers will be actively participating in professional development activities and checking on student progress throughout the day. We hope to see you at the homecoming football game tonight! Stay safe, Eagles!
We are kicking off Homecoming week with a College themed dress up day. Tomorrow is Hawaiian Day!
Homecoming dress up days are next week!
The 5th grade students recently voted for the 2023-2024 Student Council representatives. Easton Lovett, Stella Wilson, Aaliyah Doolin, Makenli Benton, Emma Minor, and Graham O'Rourke were selected to represent the 5th grade classes.
Please reach out to us if you are interested in learning more about being a substitute teacher.
The 4th grade students recently voted for the 2023-2024 Student Council representatives. Maddie Tomaw, Zoey Frye, Jack Laney, Logan Huber, Jayden Battin, and Josh Mahlan were selected to represent the 4th grade classes.
Mrs. Robinson's class read books by flashlight in front of a "roaring campfire".
The dates for the Scholastic Book Fair this fall are: Sept. 13th, 14th,15th, 18th, 19th, and 20th. Students will shop during their computer or library class. Information including the dates and class times will be sent home with students soon. Thank you for the support you give to the students of Central Elementary. Happy Reading!!!
Senior football players came up to visit with our third graders during Fun Friday. This was a big push for students to give 100% on making good choices.
Mrs. McKee's reading class is practicing making inferences with a fun Friday escape room activity.
Good afternoon Central families, I wanted to let you know that we currently have an opportunity for someone that would like to be sub custodian. The hours would be 2:00 pm to 10:00 pm but since this is a sub position, we can be more flexible. Please spread the word and have he/she contact us. Very much appreciated. Todd Gowen, Principal
Good evening, Eagles: This is Dr. Smith, Superintendent at South Putnam Community Schools. I have great news! Hendricks Power was able to quickly and efficiently replace the defective power transformer at the high school. We have verified that our systems are operational; therefore, we will return to normal school operations tomorrow, Friday, August 25th. I want to thank and give a huge shout-out to the entire South Putnam family, parents, students, teachers, staff, administrators, and transportation department for proactively working together to make this unfortunate and unforeseen situation go as smoothly as possible. Everyone came together like the amazing Eagle family that we are. Thank you! So, to reiterate, all South Putnam schools will be operating as normal tomorrow, Friday, August 25th. Have a great evening, Eagles!